888zhenren登陆不了Latest information
首页
> 888zhenren登陆不了 > 美国NYE润滑油
Nye实习生开发真空轴承试验台
发布日期: 2019-07-18 浏览次数: 98 次
Choosing a lubricant is not a one-size-fits-all method, particularly with in-vacuum and cleanroom applications. These applications are often very expensive, cannot be repaired once deployed, and have very unique operating conditions. A high-quality lubricant may not meet your outgassing or particle generation specifications causing other components to fail during operation. If you do not take the time to test your lubricant in its intended environment, it may not perform as intended.
This is why Nye has several laboratory spaces dedicated to application validation testing. Our test rigs simulate even the most severe environments to ensure that our lubricants will work for the end-user. Many of our rigs are built in-house to ensure that they can meet specific customer requirements. The most recent addition to our laboratory is our Vacuum Bearing Test Rig developed by our engineering interns Nathan Pereira and Patrick Drew, and Nye engineer Mason Wood under the guidance of Nye's Application Engineers.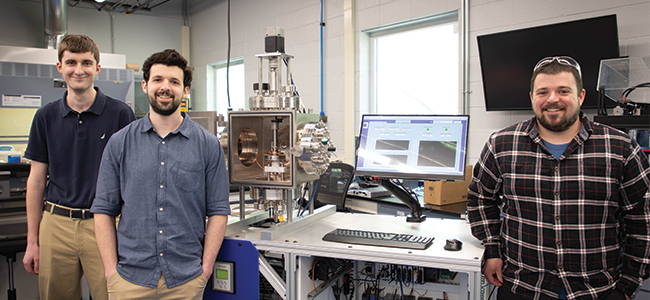 (Left to Right): Patrick Drew, Nathan Pereira, and Mason Wood stand alongside the new Vacuum Bearing Test Rig.
For the last three years, Nye has partnered with UMass Dartmouth's Engineering Program to sponsor a Senior Design Project. This project is a mandatory graduation requirement for any student graduating with a Bachelors of Science degree in Mechanical Engineering. These students work with their sponsor for an entire academic year on a project of the sponsor's choosing. This year, the interns were challenged to design a rig that assesses how our aerospace and in-vacuum grade bearing lubricants perform under high vacuum conditions.
The test rig is designed to rotate an angular contact bearing at 600 rpm, under an axial load of 20 lbs, at an operating temperature of up to 200°C, under high vacuum conditions. This rig quantifies lubricant life by monitoring the electrical resistance, and thus fluid film thickness across the bearing's races and will be key in the formulation and performance quantification of Nye's aerospace, semiconductor, and in-vacuum lubricants. Additionally, the rig can be set up to run non-standard parameters, with the ability to vary speed, load, and temperature, according to the customer's exact needs. Further analysis can be performed after testing to examine bearing race surface condition, using 3D Profilometry and Scanning Electron Microscopy analysis.
Overall, the students immensely enjoyed their experience and benefited from the oversight of our Applications Development, Validation and Test (ADVT) lab team. "They're an awesome team," said Nathan Pereira. "They helped us when we had questions, but they also let us struggle. Working with them was definitely the best part of the project." While the rig is not yet complete, the team is planning to have the rig validated and operational by Q3 2019.

Gus Flaherty - Engineering Development & Applications Manager

Gus has been at Nye for 10 years, getting his start as an Application and Test Design Engineering intern. Now, he manages the Applications Development and Validation Testing (ADVT) Lab and oversees intern projects such as these. His teams have designed and built a variety of rigs to test our lubricants on specific applications, including a custom test rig for electric power steering systems. Gus holds a Bachelor of Science in Mechanical Engineering from the University of Rhode Island and a Master's in Mechanical Engineering from the University of Massachusetts Dartmouth.