888zhenren登陆不了Latest information
首页
> 888zhenren登陆不了 > 美国NYE润滑油
Meet Nye - Chris Andreola
发布日期: 2019-07-18 浏览次数: 98 次
Chris joined Nye in 2011. He leads market development, technical strategy, program conceptualization, and product development for Nye's Medical Equipment Market, and assists in the development and implementation of advanced motion control technology to achieve success in other market niches. His technical focus is the use of polymer and particle science to customize viscoelastic gels and greases for high performance and stability. He holds a Bachelor of Science in Chemistry & Biology from the College of New Jersey and a PhD in Organic & Polymer Chemistry from New York University. For this month's 'Meet Nye' we sat down with Chris to ask him six questions about his thoughts on Nye's role in the medical industry: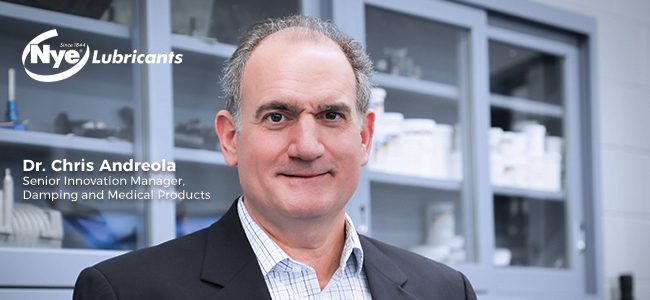 How has the Medical Equipment Market evolved for Nye over the last 10 years?
10 years ago, most of the people at Nye who are now working on medical, life science, or healthcare market initiatives weren't employees yet, including myself. Nye's Medical market was much smaller and consisted of incidental business derived from standard products finding roles in applications. Often these were NSF-H1 certified lubricants for food applications which were perceived as low-risk options for medical applications. Nye had few special capabilities for this market, no technology or market strategy, no tradeshow presence, and a diffuse knowledge base without centralized data collection to synthesize into strategy.
We addressed these issues, and at the same time, the company modernized in many ways and built world-class quality systems. Over the last seven years we have created and executed development strategies for key Medical sub-segments, as we purposefully separated our Medical from our Food & Beverage markets, and these initiatives are paying off. Today, very few MedTech engineers seeking solutions for problems contact us for 'food-grade' products – that's subtle but real proof of our success.
What makes the Medical Equipment Market different from Nye's other markets?
It is highly regulated, and therefore risk-aware, but at the same time very innovation-driven, requiring a high degree of confidentiality. The way engineers think, and the nature, pace and timing of programs that bring new devices to market, are unique in my opinion. Also, we address an extremely diverse set of applications in this market, and much more product customization is required. As customer-specific projects can take place over years, we interrelate these with strategic research and development programs which build our knowledge and capabilities. We actually needed to invent new workstyles and documentation and break down traditional barriers to do this.
Partnerships are also critical in this field, as sets of companies and consultants bring devices to market. Knowing how to partner with discretion across different territories, and go the distance while keeping track of everything, is critical. Overall, to be successful in this market requires extreme commitment and focus, with a long-term view.
How does Nye differ from other companies that supply similar products to the Industry?
I would describe Nye as a unique, niche specialty company with an ever-broadening solution set and strong customer service. This positioning fits our extremely diverse customer base, which extends across the worlds of Pharma, BioTech, and MedTech – other terms such as 'Life Sciences' and 'Healthcare' could also be used to describe this industry. These comprise an enormous and complex universe to consider, and part of the reason we segregate our opportunities in 11 market sub-segments, for focus.
Customers today need to work with suppliers who understand their business, have appropriate certifications, and can provide a range of services. We are a worthy co-supplier to a science-based, data-driven market that has no patience for incompetence. One difference may be that we are not afraid to develop custom formulations to help customers, and they know that we can operate in 'stealth mode' to protect their secrets. For these and other reasons we have built an excellent reputation and are receiving over 200 inquiries per year!
What trends dominate the Medical Market today?
That depends on one's perspective. We see miniaturization and automation, and the implementation of software, AI, connectivity and other supplemental technologies. But those can complicate devices from the regulatory, cybersecurity, cost and IP perspectives. Related to these trends has been the entry of consumer technology companies in MedTech, but Nye is experienced with customers like these and can serve them with products that address applications such as electrical connectors and hinges.
Global regulatory reform is also underway, which can actually be a positive for us with respect to how we can reduce risk for customers. In Pharma, our value proposition is expanding as we begin to consider new types of drug formulations and critical manufacturing processes.
How is Nye preparing for the future in this market?
Besides our day-to-day activities, which includes consulting with customers, providing product samples, experimenting, coordinating external customer and ISO 13485 audits, scaling up new products, and promoting our capabilities to industry, our Medical Team is engaged in six new forward-thinking innovation programs. These programs are focused on developing solutions based on needs identified in key market sub-segments and will help us build our R&D and manufacturing capabilities even further. We also have a business initiative which seeks to cross-fertilize our efforts in the Semiconductor & In-Vacuum market with manufacture of components for Medical.
What do you gain the most satisfaction from by working at Nye?
As one who loves discovery and exploration, I really enjoy visiting customers and networking with industry people. This is where we see interesting applications with our own eyes, how we reach true understanding, and where imaginative concepts are explored and all kinds of connections made. It helps me keep the pulse of industry and continuously expand our networks.
Above all, I've gained the most satisfaction from collaborating with my hard-working colleagues who believed in our vision from the start, and whose teamwork made it all happen. It's still a thrill to receive that first order from a customer to whom we applied strategy, our best technical ideas, responsive account management, and concentrated energy. That winning feeling is elevated by the realization that we are helping to improve healthcare outcomes and, in some cases, saving lives!